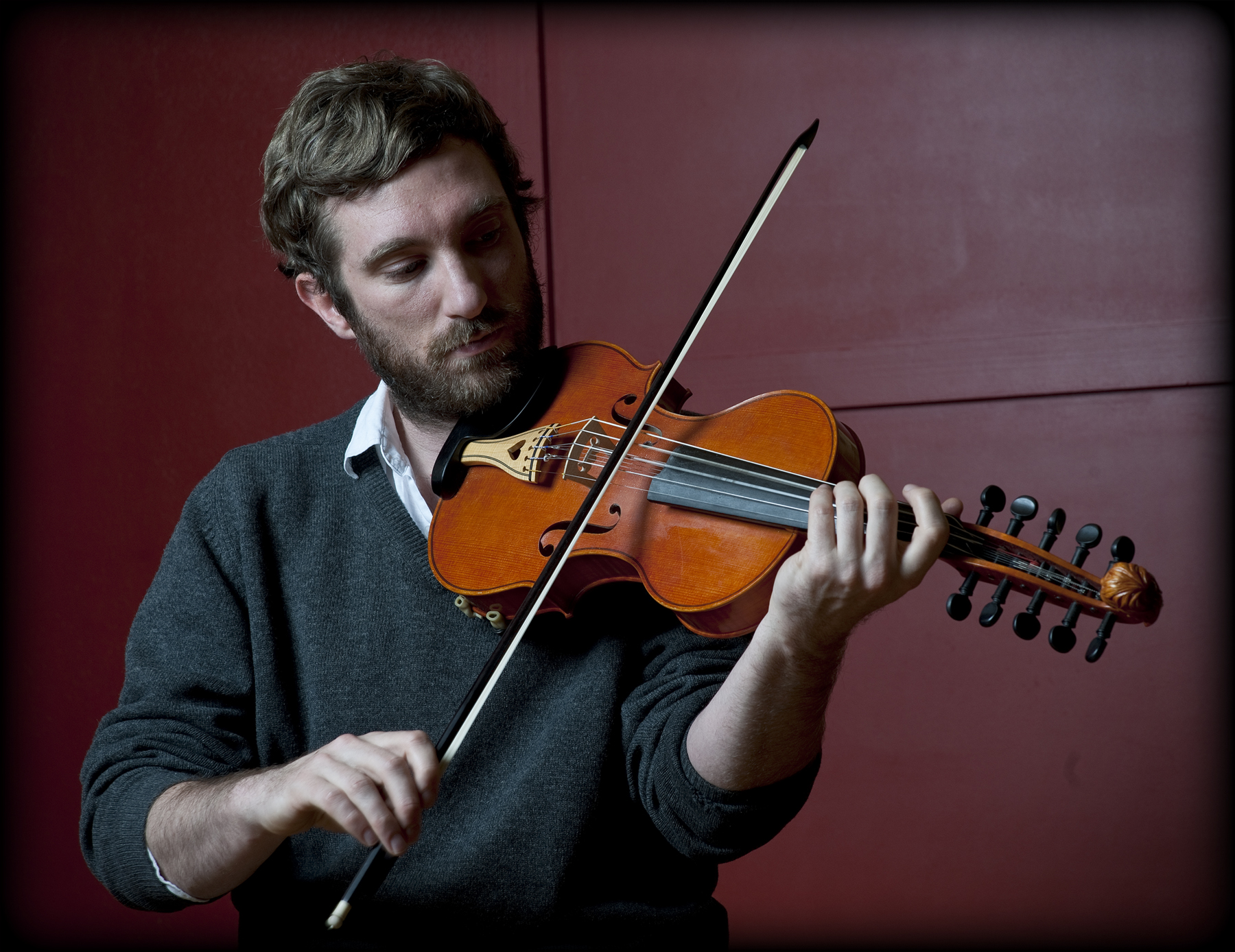 Next weekend sees Quiet Lights festival bring the best of a new generation of folk, trad and related sonic alchemy to venues around Cork city and county. At the centre of it all is multi-instrumentalist Caoimhin O'Raghallaigh, performing an intimate show at the chapel at the city's Griffith College. Mike McGrath-Bryan speaks with O'Raghallaigh about the process, new material and the nature of prominence.

The past number of years have seen a renewed interest in Irish folk and traditional music, much of which is already well-documented. Outfits like The Gloaming have played a part in fundamentally changing how the genre is perceived, both domestically and internationally, while song-collectors Lankum have shown a new generation how standards of various stripes can be overhauled with a will toward musical and conceptual progression. For Caoimhín O'Raghallaigh, a multi-instrumentalist at the centre of the Gloaming as well as This is How We Fly and other projects, the space to create and improvise is of the essence.

The coming months see O'Raghallaigh hit the road, with new material and live improvisation forming the basis of these solo shows, away from the glare of the mainstream spotlight. The creative and compositional process for this new body of work has drawn on his ability to speak multiple musical languages. "So, I've been using two main avenues for making new material: writing music in unusual fiddle tunings, and writing some code that integrates live electronics in a performance setting. The fiddle I play is the hardanger d'amore, which has a whole heap of extra strings. To get the best out of it, you really need to tune it in strange ways, so that all the strings start talking to each other and the whole fiddle starts ringing. You basically optimise it to be spectacularly beautiful in one or two keys, but not good in others. The relationship between the strings is now a bit alien, nothing is where you're used to, and so it's a great way to disorient yourself and make a familiar environment suddenly unfamiliar. I like to think that you get 'ideas for free', happy accidents from putting your fingers where you think a note is, only to find a totally different note living there."

Recording and making sense of this process is perhaps the simplest part of the creative process, as O'Raghallaigh outlines. Narrowing down the results of improvisation, and finding the next thing to do with them reveals further layers of his innate musical ability, and his desire to challenge himself. "So I'll put my fiddle in one of these tunings, press record on an iPad, and just improvise a load of rubbish, which I then sort through and pan for gold. I'll collect these nuggets of a few notes, and find the beginnings of a new piece that slowly grows into something. I write the code in a language called ChucK, and I've designed it to be an unpredictable playing partner for improvising music in a live situation. I've built in randomness in terms of what happens, when it happens, and for how long it continues. This is a reaction to using more conventional 'loopers' in the past, where you build up layers that are locked together – I wanted something much more free and unpredictable, something where I couldn't know quite what would happen next. Seán Mac Erlaine was a big inspiration in this too – I'm a big fan of how he uses live electronics in his solo performances, it seems so seamless and natural.  I've a long way to go, but it's a very rewarding process, writing the code, using it, refining or redesigning it – it continues to evolve and grow with every show."
With such a comprehensive creative process, with so many elements at play, the question of what exactly goes into the production of O'Raghallaigh's solo music, and at what exact point a piece of music is 'complete', is a prescient one. "I'd very happily commit it to record right now. I think all that's needed is the right space and a chunk of time. Every record is going to be a snapshot in time, what you were capable of at that particular moment in that particular place, and I think that's the beauty of it. I suppose you want enough time to elapse between records so that you've moved on from where you previously were, and I feel good about that now."
This upcoming run of activity comes at a break in the action for The Gloaming, after two successive albums have come in for near-phenomenal critical acclaim and commercial success. When asked if he's had time over the past while to process everything that's happened with that outfit, O'Raghallaigh retains his cool discussing the events of the past few years. "The success of The Gloaming is all quite abstract for me – it's like I'm looking in from the outside, like I'm taking a trip with the Ghost of Christmas Present. The concrete thing for me is the music-making, the real-time playing, and creating something that I believe in myself. It's great that we've got such an extraordinary reaction to that band, of course. But I don't believe it's too healthy to get caught up in what other people think – you have to just believe in what you're doing yourself.
The pursuit of these processes and daily mundanities can of course differ from project to project for busy musicians, and it's no different for O'Raghallaigh when operating solo for an extended period, compared to time in collaboration with either The Gloaming or This is How We Fly. The agency that performing solo grants him, however, is what sticks. "The freedom I get from playing solo is kind of thrilling to me. I love standing on stage on my own and just jumping off the cliff, not knowing where you're going to land, what note you're going to play, whether you might just fall flat on your face, or the whole thing just takes off. It's an incredibly liberating feeling, that at any point you can go absolutely anywhere, and there's nobody expecting you to play a certain note at a certain time, nobody relying on you to stick to a plan, no plan. It's just pure freedom."
This past summer saw O'Raghallaigh take an extended solo run of the United Kingdom during the summer, including some of the specialist festivals and gigs that have emerged over the years. The atmosphere and location of one in particular makes for a significant story. "'Singing with the Nightingales' is an event that singer and folksong-collector Sam Lee runs. Thirty people set off into the forest in the pitch black of night in search of a songbird, no torches, no talking, and after walking half an hour, we dove into the deep undergrowth, where a little nightingale was singing his heart out. We listened for maybe twenty minutes to this little bird belting out the most beautiful song, wholly unperturbed by our presence. And then Sam and myself took turns playing along with him, in whatever way we saw fit. Whether he changed his tune or not, I don't know, but the people there were quite sure he did. The nightingale will often add the songs of other birds to his repertoire, so perhaps it's not so farfetched. We stayed there for I don't know how long, maybe an hour, maybe three, and when we finally left, he was still singing. Ever since, my ears have been opened, and the joy of hearing a blackbird or a thrush here in the local park has added so much to the everyday for me."
O'Raghallaigh is on tour throughout September and October, including, as mentioned, headlining the first Quiet Lights festival in Cork next weekend. Ahead of these dates, he collects his thoughts on this significant run of dates specifically, and what went into choosing the venues along the way. "Well, I really want to make a new solo album soon, and this run of dates will be very much related to that, trying out new tunes and improvising with the electronics, trying to refine the code and the notes after each night, and moving towards committing something to tape. What attracts me to these venues is the intimacy, the acoustics, or the people running them!"
Beyond the process of further refining and road-testing new compositions, O'Raghallaigh's schedule for the remainder of the year is typically full, with new collaborations and an excursion on the horizon, as he pursues the urge to improvise and further create. "I want to start work on a solo album, that's a big 'next thing' for me. In terms of collaboration, I have two duo records that I want to bring out in the next eighteen months or so: one with Dan Trueman, a follow-up to our Laghdú album from 2014, and one with Thomas Bartlett on piano. And I can't tell you how excited I am about a piece that Dan Trueman is writing for me and the New York contemporary music ensemble Contemporaneous. We'll be starting work on it in April next year, over in the States, and I expect it's going to be a big challenge and a big thrill."

Caoimhín O'Raghallaigh is touring throughout the autumn as part of the 'Islander Presents' series of concerts and events. For tour details and tickets, visit www.islandermusic.net.