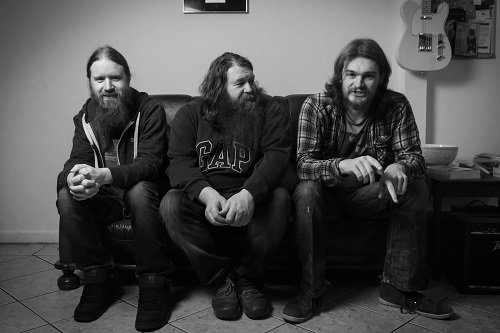 Crow Black Chicken's power-trio blues channels the genre's history through modern filters. Mike McGrath-Bryan speaks with guitarist and vocalist Christy O'Hanlon about the band's new album.
"Being a Corkman, I heard the blues before I knew what it was. I heard Muddy Waters on the radio, and my ears pricked up like a dog. I thought 'what the hell is that? And where can I get more of it?'" Such a lifelong passion is evident in the tunes and live excursion of Cork/Tipp blues power-trio Crow Black Chicken, an outfit steeped in reverie for the traditions of the genre while leaving their own mark.
Guitarist and vocalist Christy O'Hanlon discusses the band's beginnings. "Initially, we came together in 2008 as a four-piece blues cover band. We did that for a year until the then-guitarist left one rain-soaked night, after realising maybe he wasn't as special as he liked to think. Then we formed Crow Black Chicken. We found people liked our own songs more than the covers., until eventually we were doing more original music than covers. When we recorded our second studio album, we used some other musicians, Stephen Parker on keys, Christian Volkmann on harp, Mark Walsh on lap steel and I think that record benefited from the variety of sounds. But at the core of our music is, and always will be, guitar, bass and drums. That is our sound!"
The band has recently put down its fourth LP, Pariah Brothers. O'Hanlon is enthusiastic about breaking the creative process down. "Pariah Brothers was the first time all the elements to make a record came together, to make the best studio record we could make at this time. We had Philip Magee (Kodaline) to produce and engineer, and sent it to our friends Steve and George in Texas to mix. We've discovered that it isn't simply enough to write great songs, or play great, the music has to be captured in the right way, if it's done right it's like lightning in a jar when it comes back out!
We all have our roles pretty much figured out at this stage. I write most of the songs and bring them to Stephen and Gev, they will change some things, or suggest some things, put their own stamp on it. sometimes Stephen will come up with a riff, and we'll develop from there. But always each member will do what he thinks will work for his bit, so to speak. Then we road-test everything and see if the fans like the tunes, they change, usually the fat gets cut away, and then we record them."
The band crowdfunded the LP, choosing American industry leader Kickstarter over local options like fund:it or more niche services such as PledgeMusic. O'Hanlon explains the choice. "Kickstarter has a much wider scope than other fund raising vehicles, it's also slicker and easier for funders to pledge. I guess the fans have become like our record company allowing us to be able to keep the ball rolling, seeing as we have no label yet to do that job." Off the success of the campaign, is the temptation there to drop the physical/digital balance when releasing records? "For us, there will never be a substitute for the physical copy of our records, people like having something they can hold in their hands, admire the art, possess. Well, at least our fans do!"
On the topic of physical records, the band released their third album in conjunction with the restructured HMV, then riding high after absorbing now-defunct entertainment franchise Xtravision into its distribution chain. Did it make a difference? "We released Rumble Shake with HMV, it was great as a blues-rock trio to see our album get to number 12 in the charts. But in the end, these type of outlets are dying out. It doesn't affect our bottom line, we have always relied on people that come to the shows to buy the records, or contact us directly."
Cork has a rich vein of blues, from the genre's '70s heyday to the present. So, when the band looks at the scene in the city at the moment, that connection is central. "So much of it is expected to be retrospective. We don't confine ourselves to any particular genre, we don't get up in the morning and decide to write a blues song, it just sort of happens. Planet blues is certainly big enough to encompass all flavours of different things. Two Cork blues outfits stick out, one new, in Crojayn and, one are old friends, Joe Callaghan and Hot Guitars."
From retrospect to the future: what next for Crow Black Chicken? "For Crow Black Chicken the road beckons, that is what making records is all about. A wise man once said "it's not the destination, it's the journey that matters". Hopefully we'll tour the UK and Europe. Then back to record album five, This Time Next Year We'll Be Millionaires."
Crow Black Chicken play Cyprus Avenue on Friday August 5th. New album Pariah Brothers will be available soon across all digital platforms.