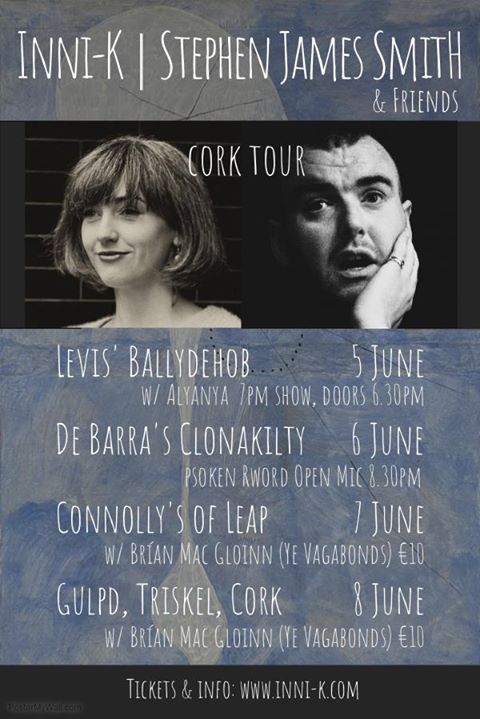 As singer-songwriter Inni-K prepares for collaborative dates with poet Stephen James Smith, Mike McGrath-Bryan speaks with both about how they came together and what to expect.
The interaction between music and forms of spoken word has been a recurring feature of live activity in Cork, with an active and vocal hip-hop scene buttressed by spoken word acts like Wasps vs. Humans that cross-check their musical frame of reference with their own words and cadence. Against this background comes the collaboration of folk singer Inni-K and poet Stephen James Smith, touring the venues of Cork county next weekend and coming together from a collaborative performance on Smith's celebratory commission for St. Patrick's Festival in Dublin last year. Smith explains the roots of the collaboration. "I first heard Eithne when she was playing alongside Alyanya, who ironically is part of the tour also in Levis' Bar, about 10 years ago, and her music stayed with me since then. Her song Gui always touched me and I felt it would be a fitting prayer to end my poem for St. Patrick's Day My Ireland. After all it is a fairly intense piece, so having Eithne's presence helped to ease the listener out of the frenzy. The fact the it's an Irish language song and something that I know to be dear to Eithne also added an additional layer of mean for me also."
It's a very specific thing, a "tour of Cork", with four very important local venues across the county being hit. Levis' of Ballydehob, Connolly's of Leap, DeBarra's of Clonakilty and the Triskel each host a show with different opening acts. Smith provides insight into the idea and assembly of the tour. "Well I can't really take too much credit for it. It was Eithne's idea as she was down in Cork and wanted to do some gigs. I'll be in Kerry for the Listowel Writer's Week for the 5 days before the tour, so it was only a short trek to buzz down. I've performed in all these iconic venues – apart from Levis' – before and thought it would be fun to hit them all over four days. I guess also, where I'm at now, I need to be doing more tours like this. I'm lucky to have travelled far and wide touring 11 different countries with my poetry, which I never expected, but now I need to be a bit more focused and organising trips like this, and not be reliant on others to offer support slots or festival gigs. That why this is so exciting for me as it's a new frontier."
This autumn sees Smith release his debut collection of poems, after a career that has seen him cross the world. How does it feel to see your experience encapsulated in a singular tome? "I'm sh*tting myself (laughs), excuse me! But it's the truth. It'll also be a relief to finally get it out there and allow me to move on somewhat. I'll have lived with some of these poems for years, and in a way the book will be a resting place for them allowing me to refocus on new challenges. I'll be working with a choreographer for a show in 2018, I've other musicians and directors I'd like to work with, so while the book is a long time coming, I feel it's cooked now and I've dragged my heels with it for far too long. I guess part of that is once it's out there, there's no turning back. Still, I don't want to be trapped by my own inertia. At the risk of being cocky I think it'll be a good collection and sure if folks don't like it I can at least be proud that I was bold enough to try."
For Eithne Ní Catháin, the artist better known as Inni-K, this collaborative tour is an opportunity to flex musical muscle and explore the interplay between the musical and speaking disciplines. Ní Catháin looks at how the tour allows her to do so. "Since my early days listening and playing in sessions, there'd be a song, a tune, a poem, a funny story; a lot of the old songs were of course poems put to music; so songs and poems go hand in hand in my world. It's interesting for me to collaborate with an artist like Stephen. His performances of his poems can leave you floating in the whirlwind aftermath of his epic My Ireland or the sheer honest & poignant beauty of The Gardener. To follow on with music or a song inspired by the mood of the poem, or to bring the listener to somewhere else entirely is a dynamic interplay I look forward to during our shows next week. We'll both be doing what we do, and I'm excited to see what the interaction will be – between Stephen and I, and our special guests along the way – Brían Mac Gloinn (Ye Vagabonds) & Alyanya we'll be coming to the audiences brimful of songs, music & poems, I think there will be something for everybody."
Most recently, Ní Catháin's song Come With Me was used as the theme for the Cruinniú na Cásca festival. How did that come about? "I was thrilled to have my song 'Come with Me' blasted all over the radio & TV for the lead up of Cruinniú na Cásca. It was a great day of music & culture all over the country and I was proud to be part of it; both having my song used as the theme for the day, and also performing in Dublin castle with my band, and also in Kilruddery house later in Bray. RTÉ got in touch with me to see if they could use the song, so I of course was delighted."
The tour goes to arguably the backbone of Cork cultural venues. Ní Catháin explains her frame of mind heading into the tour, and how performances might change to suit the idiosyncrasies of each venue. "These indeed are very lovely venues we're going to visit next week all over Cork. My favourite kind: small enough, intimate, listening venues. My thing going into the tour is that this will just be a lovely week of doing what I love doing, singing my songs for people who'll listen. I'm in a writing period these days, so it's great to get out and perform from time to time too. I look forward to hearing Stephen's poems as always, and I suppose I'll endure his bodhrán 'playing' (laughs). Brían Mac Gloinn, who'll join us in Connolly's and Gulpd, is really one of my favourite singers around & Alyanya who'll join us in Levis', is an old friend and super singer-songwriter. We'll have a ball, sure, and hope the audiences will too. There certainly will be an element of improvising as each venue & special guest will inspire. I'll be down for a few weeks in west Cork writing and working on some songs for my new album, so this will be a total distraction!"
Inni-K and Stephen James Smith perform a series of collaborative dates next weekend: June 5th at Levis' of Ballydehob (7pm, donations); June 6th at DeBarra's of Clonakilty (8pm, part of Psoken Wrod open-mic); June 7th at Connolly's of Leap (8pm, €10) and June 8th at Gulpd Cafe (8pm, €10).