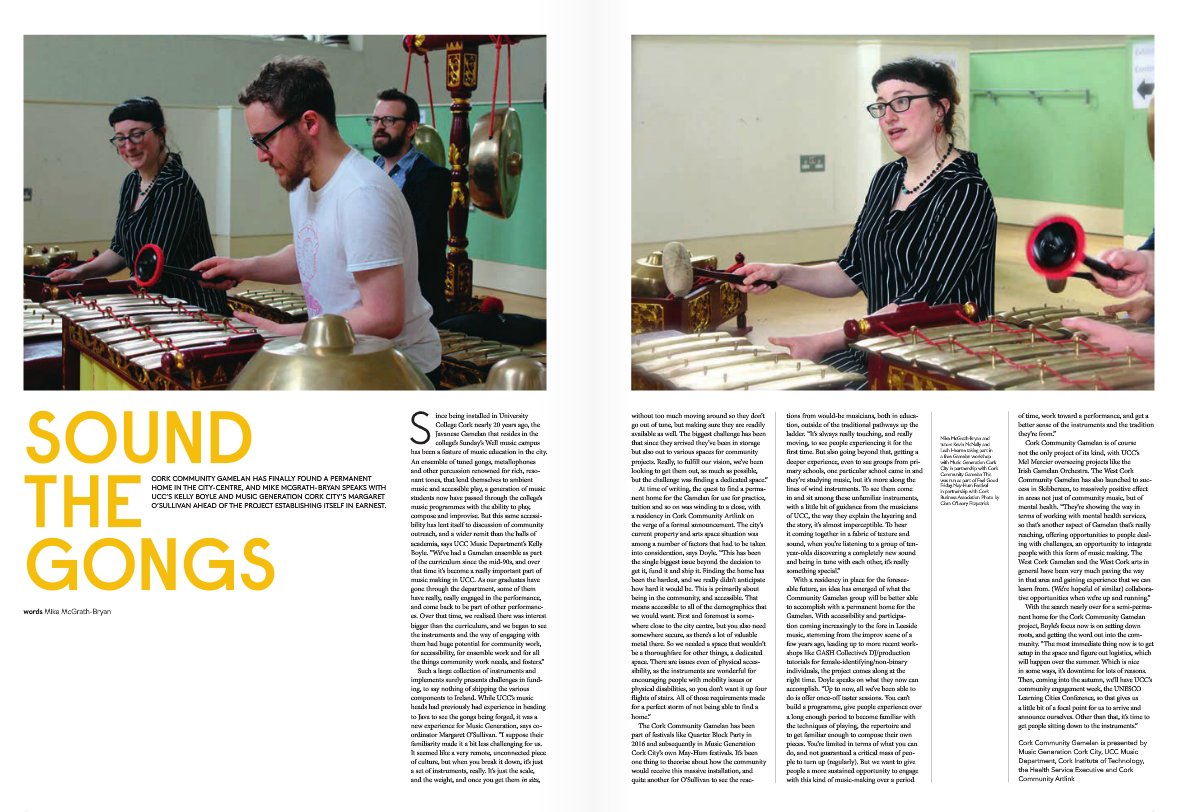 Cork Community Gamelan has finally found a permanent home in the city-centre, and Mike McGrath-Bryan speaks with UCC's Kelly Boyle and Music Generation Cork City's Margaret O'Sullivan ahead of the project establishing itself in earnest.
Since being installed in University College Cork nearly twenty years ago, the Javanese Gamelan that resides in the college's Sunday's Well music campus has been a feature of music education in the city. An ensemble of tuned gongs, metallophones and other percussion renowned for rich, resonant tones, that lend themselves to ambient music and accessible play, a generation of music students now have passed through the college's music programmes with the ability to play, compose and improvise. But this same accessibility has lent itself to discussion of community outreach, and a wider remit than the halls of academia, says UCC Music Department's Kelly Boyle. "We've had a Gamelan ensemble as part of the curriculum since the mid-nineties, and over that time it's become a really important part of musicmaking in UCC. As our graduates have gone through the department, some of them have really, really engaged in the performance, and come back to be part of other performances. Over that time, we realised there was interest bigger than the curriculum, and we began to see the instruments and the way of engaging with them had huge potential for community work, for accessibility, for ensemble work and for all the things community work needs, and fosters."
Such a large collection of instruments and implements surely presents challenges in funding, to say nothing of shipping the various components to Ireland. While UCC's music heads had previously had experience in heading to Java to see the gongs being forged, it was a new experience for Music Generation, says co-ordinator Margaret O'Sullivan. "I suppose their familiarity made it a bit less challenging for us. It seemed like a very remote, unconnected piece of culture, but when you break it down, it's just a set of instruments, really. It's just the scale, and the weight, and once you get them in situ, without too much moving around so they don't go out of tune, but making sure they are readily available as well. The biggest challenge has been that since they arrived they've been in storage but also out to various spaces for community projects. Really, to fulfill our vision, we've been looking to get them out, as much as possible, but the challenge was finding a dedicated space."
At time of writing, the quest to find a permanent home for the Gamelan for use for practice, tuition, etc. was winding to a close, with a residency in Cork Community Artlink on the verge of a formal announcement. The city's current property and arts space situation was among a number of factors that had to be taken into consideration, says Doyle. "This has been the single biggest issue beyond the decision to get it, fund it and ship it. Finding the home has been the hardest, and we really didn't anticipate how hard it would be. This is primarily about being in the community, and accessible. That means accessible to all of the demographics that we would want. First and foremost is somewhere close to the city centre, but you also need somewhere secure, as there's a lot of valuable metal there. So we needed a space that wouldn't be a thoroughfare for other things, a dedicated space. There are issues even of physical accessibility, as the instruments are wonderful for encouraging people with mobility issues or physical disabilities, so you don't want it up four flights of stairs. All of those requirements made for a perfect storm of not being to find a home."
The Cork Community Gamelan has been part of festivals like Quarter Block Party in 2016 and subsequently in Music Generation Cork City's own May-Hum festivals. It's been one thing to theorise about how the community would receive this massive installation, and quite another for O'Sullivan to see the reactions from would-be musicians, both in education, outside of the traditional pathways up the ladder. "It's always really touching, and really moving, to see people experiencing it for the first time. But also going beyond that, getting a deeper experience, even to see groups from primary schools, one particular school came in and they're studying music, but it's more along the lines of wind instruments. To see them come in and sit among these unfamiliar instruments, with a little bit of guidance from the musicians of UCC, the way they explain the layering and the story, it's almost imperceptible. To hear it coming together in a fabric of texture and sound, when you're listening to a group of ten-year-olds discovering a completely new sound and being in tune with each other, it's really something special."
With a residency in place for the foreseeable future, an idea has emerged of what the Community Gamelan group will be better able to accomplish with a permanent home for the Gamelan. With accessibility and participation coming increasingly to the fore in Leeside music, stemming from the improv scene of a few years ago, leading up to more recent workshops like GASH Collective's DJ/production tutorials for female-identifying/non-binary individuals, the project comes along at the right time. Doyle speaks on what they now can accomplish. "Up to now, all we've been able to do is offer once-off taster sessions. You can't build a programme, give people experience over a long enough period to become familiar with the techniques of playing, the repertoire and to get familiar enough to compose their own pieces. You're limited in terms of what you can do, and not guaranteed a critical mass of people to turn up (regularly). But we want to give people a more sustained opportunity to engage with this kind of music-making over a period of time, work toward a performance, and get a better sense of the instruments and the tradition they're from."
Cork Community Gamelan is of course not the only project of its kind, with UCC's Mel Mercier overseeing projects like the Irish Gamelan Orchestra. The West Cork Community Gamelan has also launched to success in Skibbereen, to massively positive effect in areas not just of community music, but of mental health. "They're showing the way in terms of working with mental health services, so that's another aspect of Gamelan that's really reaching, offering opportunities to people dealing with challenges, an opportunity to integrate people with this form of musicmaking. The West Cork Gamelan and the West Cork arts in general have been very much paving the way in that area and gaining experience that we can learn from. (We're hopeful of similar) collaborative opportunities when we're up and running."
With the search nearly over for a semi-permanent home for the Cork Community Gamelan project, Boyle's focus now is on setting down roots, and getting the word out into the community. "The most immediate thing now is to get setup in the space and figure out logistics, which will happen over the summer. Which is nice in some ways, it's downtime for lots of reasons. Then, coming into the autumn, we'll have UCC's community engagement week, the UNESCO Learning Cities Conference, so that gives us a little bit of a focal point for us to arrive and announce ourselves. Other than that, it's time to get people sitting down to the instruments."
Cork Community Gamelan is presented by Music Generation Cork City, UCC Music Department, Cork Institute of Technology, the Health Service Executive and Cork Community Artlink.