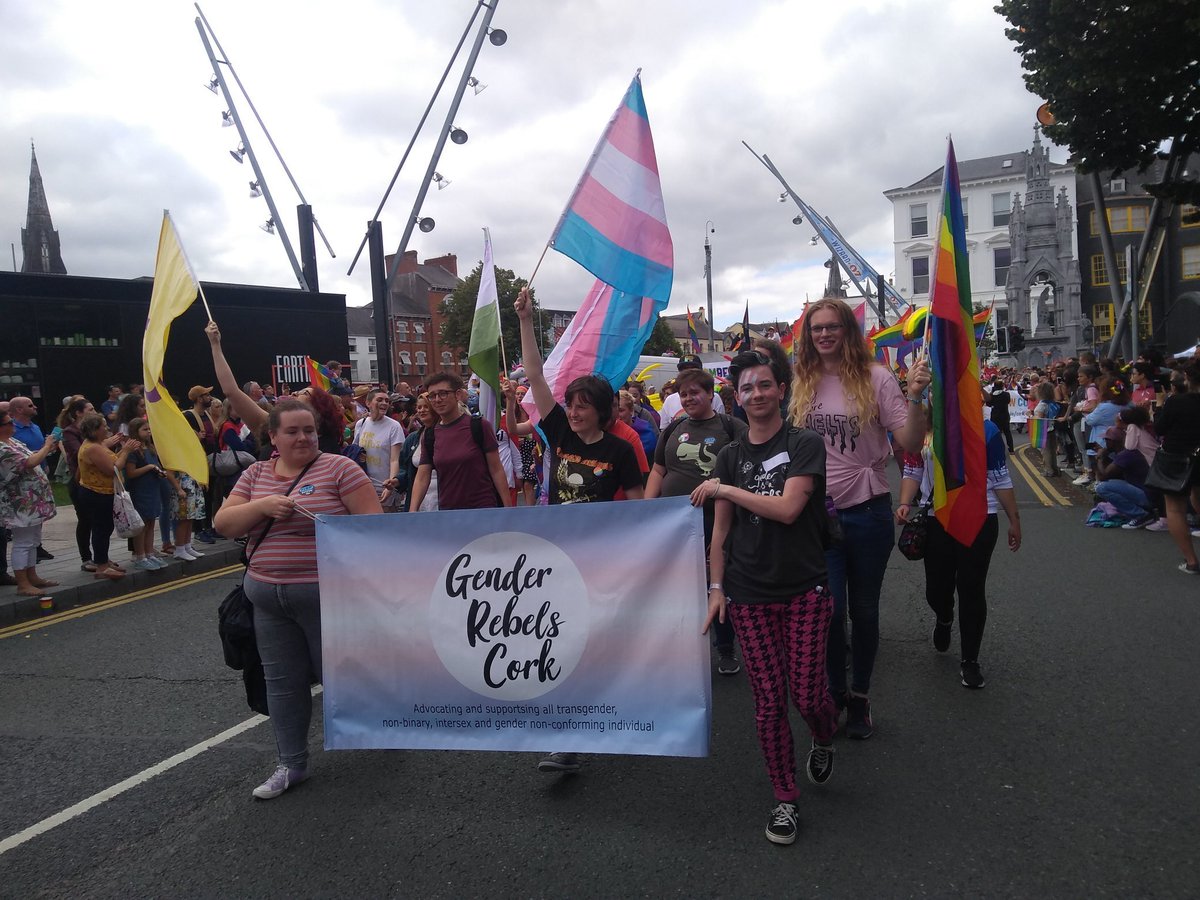 Gender Rebels are a group dedicated to working on the rights of transgender, intersex and non-binary people in Cork City, negotiating obstacles both infrastructural and everyday, and providing an outlet for social events and peer support. Mike McGrath-Bryan speaks with chairperson Jack Fitzgerald.

With Pride month in the rear view mirror for another year, and celebrations around the country winding down, it's easy to bask in the colour, pomp and circumstance that the weekend's proceedings confer on the city. Inclusivity and visibility have traditionally been at the heart of Pride celebrations, stemming from its roots in civil rights protest. But with criticism mounting in recent times of co-option by major sponsors of the Pride movement, the importance of maintaining that visibility for the city's LGBT* community on a day-to-day basis has been drawn into sharp focus. For transgender, intersex, non-binary and otherwise gender non-conforming individuals, representation and community has historically been of utmost importance in the absence of substantial infrastructural assistance, with this year seeing Dublin host Ireland's first ever Trans Pride march.

Enter Gender Rebels, a group formed last year to provide peer support and social outlets with a distinctly Corkonian identity. For chairperson Jack Fitzgerald, being part of its foundation was about strengthening connections between people in the city. "The last peer support group in Cork had kind of wound down, and (advocacy group) TENI was looking for something to fill the gap. Just from other things, they knew who I was, called me and asked would I be interested in taking up the peer support group. From looking at what the support group did and the resources it had, I kind-of figured that I might as well do my own thing here, that wasn't connected to any organisation. I thought that would give us more of a voice and more visibility."

Last November saw the group's inaugural AGM, at the Village Hall community venue on Patrick's Quay. With the event's agenda ranging from social events to addressing the wider infrastructural needs of Cork transgender, non-binary and intersex communities, reaching a consensus among members before settling on a mission statement was a considered process. "It took a while. When I set the AGM, the community was very dispersed in Cork, there wasn't one epicentre for people. Loads of people are online, in online groups, that's where we advertised it, we got the name out there, as well as networking with people we know, and we booked the space in The Village Hall upstairs for the AGM. It was surprisingly well-attended, about 50 people, which was absolutely fantastic. There, we just said what each wanted from the scene in Cork, what we were looking for, and then, from that, hearing stories. From there, I was able to pull together a steering group, we set it up and outlined the aims of our community, how to raise awareness, and then also to try and get better resources for ourselves here in the city."

Among the key items on the agenda, and one that has defined the group subsequently, has been that of addressing the needs of the city's community, in different ways. Recent years have seen an upsurge in national awareness of the issues facing trans, non-binary and intersex people, but on a local level, Gender Rebels have been putting in the work on educating others on the issues that affect people on a daily basis. "The big one is if you're wishing to transition and get onto HRT, there's no services in Cork for you. You have to go to either Galway or Dublin, and the waiting list for Loughlinstown in Dublin is twenty months. There's no guarantee that you'll get onto HRT after that time, either. They're using a very outdated mode of care for trans people, they're not applying themselves to the international standard, the WPAT. There's a movement in Dublin, This is Me, trying to get the international standard of care brought in. The other issue is people don't know. They don't know what being trans is, don't know what being intersex is. If you're an individual trying to access a support or service, the people you're dealing with don't know what you are. That can be very difficult. People that are going to their GPs or their counsellors are often in the position where they are the educator, and that can be very difficult as they may not know everything themselves, but they are expected to. Other people may choose not to come out because of that, so they may use a service in the city and people may not know they're trans because they don't want to have that conversation."

Among the biggest issues facing the community in Cork at present, is the coarsening of discussion on the topic of gender, thanks in no small part to the rise in agenda-driven online debate channels and personalities. Recurring jokes and memes belittling minority social groups have been a pillar of their online strategies, and Jack has seen the attrition on discourse in his everyday life. "You get the people that think this is some new fad that just came up, don't realise there's a history to it, thinking that it's okay to have "debates" with trans, non-binary and intersex people. This could be a person just going about their day, and all of a sudden, they'll meet an individual that has this pre-planned debate, made out in their head. You'd be, y'know, just trying to get your coffee. You don't want to be debating if the 'they' pronoun is singular or not. I just want to have a coffee. You're always expected to 'perform'. Part of that is, as the gay and lesbian movements have picked up acceptance, visibility and allies, they're no longer the 'easy target'. Trans people are likely to be more vulnerable or isolated, so they might be an easier target for this stuff."

Another stated goal for the group has been garnering better resources with which to work, and provide spaces for people from the community to meet up and support one another. The processes of dealing with officialdom and venues around the city have been relatively easy for the group, with goodwill being extended from different quarters. "It's been very positive. I was volunteering with Cork Community Art Link, who are at the Lido (in Blackpool). I had asked them if we could avail of the space and they were more than happy to give us that space. So, while you do have those people online that are anti-gay, or anti-trans, the average person is more than willing to be accepting, almost like they can't do enough for you, and it's really been heartwarming to see that. People are really kind, or if they don't know, say, the right way to go about things, they just ask questions like 'how can I support you better?', which is really encouraging. Interestingly, we have had difficulty in accessing (lesbian and gay spaces), but it is getting better. The Cork Gay Project has recently changed their remit to include trans men, which is really encouraging. Bi Ireland has been fantastic. I'm surprised by the amount of trans people in bi groups in Ireland. They're an accepting space and they've made sure that they're an accepting space."

With the polarisation of online discussion and subsequent second-hand talk, it could be difficult for some people to know where to begin getting up to speed on matters pertaining to the city's trans, non-binary and intersex communities. Discussion regarding preferred pronouns, gender identities and trans rights have come to the surface in recent years, but for Fitzgerald, knowing how to help starts with the everyday ways in which people interact and support each other. "The biggest one is, first and foremost, view us as human. There's a lot of 'othering' that can happen. Some people can be so different to you, so out of your norm, that it's easy to other them, but when you do that, you dehumanise them. Just realise that we are human and the vast majority of us want to live our lives. I'd be very unusual, by being very proactive and advocating for trans rights, but the majority want to live their lives and get on with things. The second one is, if someone has come out to you, and has changed their pronouns, to just respect those pronouns, try and use them. I know it can be difficult if you know someone for a long time to change to a new name and new pronouns, especially if it's 'they' as a singular. It can a take to while to get used to it. If you do make a mistake, misuse pronouns, etc., what works best, I find, is to say sorry and move on. One thing that often happens is someone will get the wrong pronoun, and then spend the next half-hour saying sorry for it. It comes from a place of kindness… if it's an accident, it's an accident. It happens."

Another pillar of the group's remit is raising the local profile of the community in Cork, with this awareness feeding into the main aim of better resources and support in the city. To this end, creating visibility has been a major part of the group's activities. "I think the mere fact that we exist has created a lot of awareness. I'm after getting phone calls or emails from people where a family member has come out, or they have a client who's trans, and they go online because they don't know anything about it, they Google it and they find us. We're a place for them to ask their questions. Another one is having been involved in Pride this year, which allowed us to have our own trans event. In UCC, I'd do a lot of talks… when anyone calls us asking to do a talk, I'd always raise my hand. During the Repeal campaign, I was asked to provide my perspective as a trans person. Y'know, we have meetups and social events, we do so in public, to reinforce the idea that there's nothing wrong with being trans. We can exist in public spaces. When we launched the group, a gay man came up to me and said he thought it was unusual that we would have gatherings in public. He said he knew two trans women that wouldn't "pass", didn't 'look' female, and because of that they shouldn't be out in public. It's that kind of thing we want to challenge. We are as entitled as anyone to be in these spaces."

While the social events include coffee gatherings, nights out and games nights in places like Tabletop and Barcadia, an important offering for the group is a closed-doors peer support group at the Lido, happening monthly. Provided is an accepting space for people to present themselves as who they are, with group discussions, workshops and changing facilities available. "Mainly, we meet up in cafes. It's a lot more chill for people. If you saw us sitting around, you wouldn't twig that we are trans, non-binary or intersex. We just look like everyone else. We get people that go to our peer support meetings, those are closed spaces, people can be 'more' themselves, can dress the way they want, act the way they want. Some people can be more reserved in public, depending on how 'out' they are and where they are in their transition. It's a place to support each other, discuss their experiences. If someone is just coming out, don't know where they fit, groups like this are very handy, they can hear stories, ask questions. Oftentimes, it's the first space (people) have been in where they're 'out', or the norm, they're not 'unusual'. And just to have that, where they're not the different person in the room, can be very liberating."

The group has come along in leaps and bounds, with another AGM due later in the year, advocacy work ongoing, and social activities planned throughout. Fitzgerald points to ongoing growth and hard graft. "To grow bigger, have more events. Weekly events. Down the line, our own centre or space. When you look at Belfast, they have the Trans Resource Centre there. Seeing what they've done up there, we'd love to have something similar up there, where you can get resources and info. Another thing is more of an online presence, at the moment, we're all based on Facebook. We want to move from that to our own website, so that will be a resource to access, as people might be afraid of using socials, others might not know they're out, etc. There's a few other things lined up, but right now it's about getting stable, growing and building our community."

For more information on upcoming peer support groups and social activities, email genderrebelscork@gmail.com, or find Gender Rebels on Facebook.