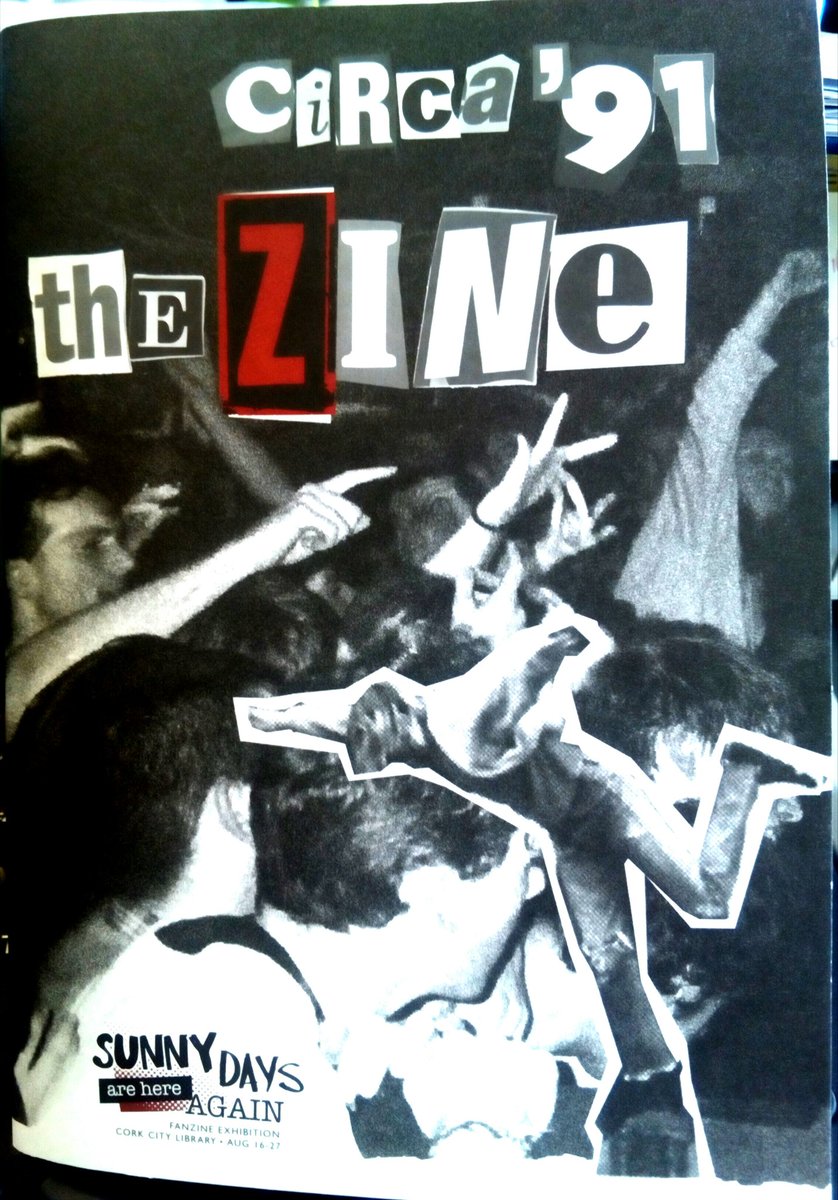 Written as the epilogue for Circa '91: The Zine, a fanzine accompanying Sunny Days Are Here Again, an exhibition of nineties Cork fanzines in the Cork City Library from August 16th-27th of 2016. Covering the online ground after the subsiding of print 'zines around the country.
The 'zines had by and large been gone by the time my late teens rolled around, but held out in their natural environments. A curio in the corner of PLUGD Records or at various shows around town, the humble staple of DIY coverage I'd heard mentioned in whispered tones or with reverence as a punk rock cornerstone still held a place on the musical bottom line. A world away from the polished retail-shelf mags from the UK I'd binged on throughout my teens, they still represented the real DIY community, a world I was then maybe just short of understanding, for all my goodwill and exhaustive research. To this day, I still approach issues of Loserdom, and its recent zine-history spinoff with interest and intrigue, a look at an artform being kept up, intended for people that are au fait with its mores, its style, its tone, like tuning in halfway through a local community radio broadcast, sound unheard.
But print media that had shit I wanted in it was still there. National freesheets became a thing to limited extents in the early 2000s, exemplified by the ever-maverick and bauld Slate, a phenomenon I stumbled across on its final issue, and possibly hitting its nadir with boom-time trendy journal Mongrel, mercifully shortlived. Jonny Tiernan's Alternative Ulster mag hit my line of sight when Therapy? released its launch show as their first and only official live DVD, and what a weighty endorsement that was to young Mike, the ageing face of Irish rural psychosis lending weight to their local scene and lending their name to a fine organ. AU found its way to Mallow, Co. Cork, of all places, in the local toyshop's newsstand, bringing me Irish tunes and cool independent labels, and was a brief point of interest locally among those in the know. Foggy Notions also occupied shelf-space, but was very pricey and sometimes came off a bit pretentious for my younger, less developed palate. A few years later on, I got into satirical broadsheet the Whipping Post, and am still waiting for them to return from their summer holidays.
It was 2008 when I moved to the city to make noises and put on shows while I figured what I wanted with my life. We're still working on that. A few shows and a failed jam band later, I'd amassed a decent haul of local tunes from PLUGD, and began doing my homework, approaching local bands via trusted people/awkward PMs and starting to talk to them. I still remember being bowled over by Hassy from Arm the Elderly wishing me luck with shows, even after I told him I couldn't afford their fee! Barrytron, of many local racket outfits, had gotten talking to me about stuff happening locally, and suggested I give Drop-d.ie an email about writing about the scene. I'd wanted to be a journalist when I grew up until I saw a bunch of paparazzi at my friend's funeral, and had soured on it, but the chance to be around music in any way was too much to resist. Drop-d had been a name locally for years, and people like Nay McArdle, who I'd recognised from Hot Press and is the great unsung heroine of Irish rock journalism, lent it an authenticity and credibility that dragged me fullforce into the blogosphere.
The site started as an email newsletter, as people were kept wide of the writers' efforts to get a new practice space in town running in the mid-aughts. The 'zine mentality spread to a website that started as a static information point before later becoming a rolling blog and gig guide.
By 2008, of course, its Cork focus had shifted to Dubland courtesy of then-editor Paddy Murphy, who made as fair a go of it as he could, but whose gonzo stylings really rankled with a lot of people. By the time he was finished with it, a lot of people had their applecarts overturned, and the various internet spats became too much. Muggins here had been doing the newsbeat, slowly making my way up ranks I thought actually existed, as well as mailer interviews around the country with various heavier bands. By the time Paddy passed me the editor's hat, though, it was clear a change of focus was needed. With Nay and almost the whole crew gone, and Nay's Harmless Noise about to become the backbone of a golden age of blogging, I sat down and came up with ways of differentiating the site from others, and it hit me plain as day after I'd done a free-download compilation of Cork bands the previous year that the focus needed to be Leeside. Everything else was so Dublin-centric.
So, that became the focus, and I discovered venues, bands and people I so respect and admire right up to now, as a result. Cork was in an unlikely golden age in 2009-2012, and even when faced with venue closures like the Quad, it was everywhere from I'll Eat Your Face, to a nascent Agitate the Gravel, to Hope is Noise, to Lamp, to Altar of Plagues, to Time is a Thief. So many great bands that I sorely miss seeing live, in places that are indelibly etched in my mind.
And that sense of pride in a city, in a scene, and in a community that was instilled in me the further I delved, and the broader my personal horizons got, was where I saw reflected in our little website what I'd seen in those zines. A vernacular, a circle of people, a code, a sense of place and purpose. Soon other opportunities came my way.
Alternative Ulster got in touch, and the first article I pitched was a guide to the Cork scene, which led to the mag adopting scene reports. Shortly thereafter, another aspect of zine culture made itself apparent to me, when I began to distribute the mag in the city. By then it had gone freesheet, and was chugging along nicely on ads and grants. The monthly few laps of town with a full backpack of 80-page mags became a staple of my life for those two years, as I ventured further into the town's independent businesses, and garnered an appreciation for their people, and the stories therein as smalltalk gave way to friendly conversation.
On that note, I will forever love The Quad for giving Drop-d a physical home for its live night, and my ventures with AU a base of operations. I met friends there, got dumped there, took in endlessly amazing bands and artists there. That Batcave with the manky jacks was my world for a short time, as sad as that sounds now, knowing now what the plan was all along. And I still shudder at the thought of going near the building that housed it for fear of seeing it used for something else, or worse, going into disrepair. On its final night in business in 2011, I tried to walk out three times before I could bring myself to do so, knowing I'd never see it again, and wept when I turned that corner from Tuckey St onto South Main St.
The following year I just gave up on it. Writers left, and I couldn't replace them. I went to college and couldn't devote the time. No-one seemed to want back in to help it back up, or take the reins. So, after eight years, Drop-d wound down in 2012, before disappearing from the interwebs in 2013. It was a product of its time and that time had passed.
Alternative Ulster would soon be out of print, and while the website hobbled along, online editor Brian Coney had his own mark to make. In 2013, he and Loreana Rushe started The Thin Air together off the back of their exploits with State mag. Pining for the sense of something greater than myself AU had provided, I chucked my name in that publication's hat. I'm still there, and The Thin Air is proudly the only physical freesheet distributed nationwide (yours truly resuming dropoff duties), with tens of thousands of readers between online and paper. The question of sustainability still hangs in the air, but it's a joy to read, combining the scrappy underdog charm of the zines with the refinement of high design made accessible. Dublin music-blogging cornerstone Goldenplec tried their hand at it, too, to be fair, and I think fellow Dublanders Pure M have a print run going too. Fair balls.
But the world is so much smaller now, and every nook and cranny of the country has a few bands that can arrange their own tours, self-release, and generally give themselves a fighting chance. And the Internet changed everything not just for bands, but for the scope and reach of writers and publications, who were suddenly national by dint of a Google search, word of mouth, and maybe some gumption by those looking for music coverage to keep checking back. Irish music is multifaceted and deep, but threaded together by community and passion, one that comes from fighting the good fight against indifference and mediocrity.
That's not stopped other Leeside publications from springing up, though. We all know of Backstage Traffic in the early naughties, and trustworthy sources tell me the man responsible is looking at ways of bringing it back. We Are Noise was great but hamstrung by the same issues that killed every other blog of the mid-2000s, ie., lack of money and life moving on. [Insert Title] had a good stab at making a difference, but was for too wide an audience to shine a spotlight on solely on local bands, especially with food now being the in-thing for general mag readerships. Totally Cork seems to want to go full bore into the local scene, and fair fucks for putting up 10,000 copies and the full design job on a culture mag. And of course, the Evening Echo's Downtown supplement has always done its best by the scene, balancing the team's love for it with (full disclosure, I'm a writer for them) telling the stories behind the art that will hopefully keep a wider audience coming back to be informed and entertained.
As with everything else, in terms of music, art, creativity and other forms of risky endeavour, us Corkonians punch above our weight. We do it, we know we do it, and we'll tell you as much. Hopefully we can continue to do so as times, media and things to boast endlessly about change, and the coming generations can get immersed in their city and their scene as much as we all have. The fora of discourse may change, the interactions around same might, but Cork will always have the best tunes, and people will need to be told. In that sense, the spirit of 'zines and their wholesale pursuit of community go on and on and on.