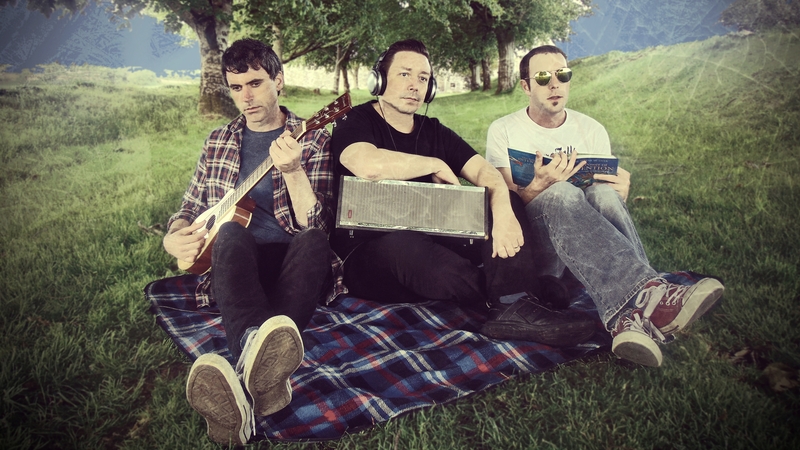 Neon Atlas play the Crane Lane on the 18th of February, and bass player Enda O'Flaherty is preparing for a solo release. Mike McGrath-Bryan speaks with O'Flaherty ahead of a busy period for the musician.
It's a busy time for Cork bass player Enda O'Flaherty, to say the least. His sonic day-job, Neon Atlas, is gigging again shortly, playing the Crane Lane with Paradox to launch new single The Afterglow. It's been a creatively fertile time for the band of late – their third album is due before the end of the year, following on from 2015's Graffiti Reality long-player. Having had the time to live with the last LP's material, the band are looking forward to getting back into the grind. "I guess music wouldn't be so exciting if it wasn't in a constant state of flux and development, progression and growth. And I guess the music you make grows with you. So we're perfectly comfortable with the tracks we've laid down over the past few years – it was the music of our time for us, and we thoroughly enjoy playing those songs live. But like everything in life, there's also a drive to move on and be more creative, that's what we've been doing of late, and we're looking forward to playing our earlier tracks, but also bringing our new music to a wider audience this year."
Meanwhile, O'Flaherty's other project, The Grey Merchant, has a new single out, The Last Transmission, which definitely feels different, featuring O'Flaherty alongside various collaborators and buddies. The project has its roots as a solo endeavour, but its scope has quickly expanded. "The Grey Merchant came about for me sometime in early 2014. I began laying down tracks at home, but they basically got shelved for about two years while Neon Atlas took priority. Through the second half of 2016, there was some room to revisit those recordings and bring in some friends, to lay down tracks. We re-worked and added to them. It became apparent that there was probably enough material there to get an E.P. or album. It's different to Neon Atlas, probably a little heavier, rougher, who knows. But it keeps me occupied and it's a great learning experience for me."
Both projects release via Demeanour Records, O'Flaherty's own label. While the influx of artist-led/DIY labels is nothing new in this day and age, the moniker seems so far to exclusive home his own projects and creative impulses. "One of my hairbrained schemes, as my bandmate likes to refer to it, it is a long term project. I wanted to create a platform for releasing music, kind of a hub for musical projects. We've only released material that I've been involved with so far, but like The Grey Merchant, it's a good learning experience, and I guess down the line, I might expand it to release other artists – In fact I'm pretty sure that's what I'd like to do."
Of course, Neon Atlas' gigmates on the 18th, Paradox are bordering on their 20th anniversary this year, with a documentary and such to follow, returning to original material after the Nirvana tribute shows of late. With their frontman Pete Mac now hopping in on guitar for Neon Atlas, O'Flaherty speaks highly of the band. "We started teaming up with Paradox last year. They're youthful veterans of the music scene and know what's what ,and the work levels involved in putting out your own material. To that end, they're just gearing up to release their next single in March, recorded with Brian Casey in Kerry, where they recorded their last album 'Chapters'. They're great gigging buddies. How could they not be?"
Returning to the topic of self-releases, and such, The Grey Merchant slipped under a few radars last year, but got international airplay and online accolades. O'Flaherty takes us through the mindset of establishing a project and getting this far under one's own steam, in particular negotiating the tricky question of radio. "The process is quite simple really; you make music and then you put it out there. Establishing the music either happens or it doesn't. Of course you help it along by reaching out to blogs and radio stations. I guess it's curious that The Grey Merchant and Neon Atlas get more coverage outside of Ireland than at home. But it's a small island, and radio stations are super-saturated with a lot of middle-of-the road material, trying to please the largest audience and keep themselves afloat. It's understandable. But in larger markets, there's room for something a bit different. The Grey Merchant has had regular plays in the UK, US, Canada, Oz, New Zealand, France, the Philippines …the Mauritius, and few other spots. I did a phone interview for Radio Rock Mauritius; they were so keen to listen to, and digest new music. Even with our radio quota for Irish music here, we still seem to rotate the same Irish artists constantly. It's a real shame."
While Cork has always had a very strong alt-rock scene, the recession in recent years has hit that scene, and its various micro-offshoots via venue losses, and emerging from the wreckage, seemingly, are other genres, while noisy guitar music seems to be struggling to find a place at present on the live scene. O'Flaherty is pragmatic on the topic. "Goodness knows. It goes in cycles I guess. When the mood is right, and the material is good enough and fresh and relevant, maybe there'll be an upsurge in noisy guitar music again. Maybe not. But if there's a call for it, then the venues will re-appear in a new guise, and the sound will be familiar but different; of its time hopefully. I'm not tied to noisey guitar music, though it's what I'm making at this moment – maybe this time next year I'll want to make music that expresses moods through the pan-pipes played in a public toilet; exclusively released on four synchronised cassettes for quadraphonic, lo-fi sound. Probably not."
Neon Atlas and Paradox play the Crane Lane Theatre on Saturday night. Free in. New single The Afterglow available on March 2nd via iTunes. The Grey Merchant's new single The Last Transmission available February 17th via iTunes.