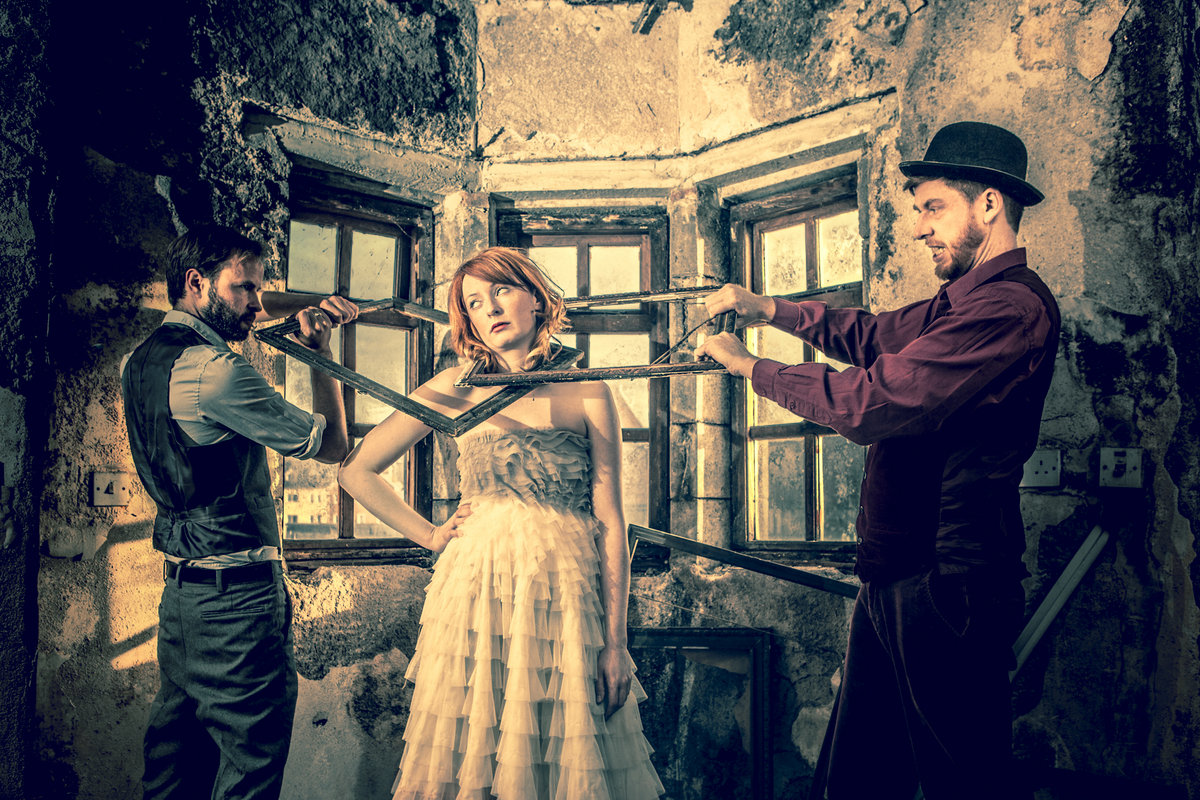 With their new extended-player releasing on the 27th, and a gig in the Village Hall to accompany, Mike McGrath-Bryan speaks to Chris Schmidt-Martin, cellist of folk trio Sillk.
Irreverent, noirish pop nestles warmly alongside familiar folk slowburners in the body of work we've seen thus far from Cork three-piece Sillk, comprised of singer/guitarist Orla Travers, violinist Julian Halpin, and cellist Chris Schmidt-Martin. Though the band has emerged in relatively recent times in the city, they've been in existence in one form or another for the better part of seven years, forming from an encounter in common social circles. "As it goes with lots of bands, chance meeting at a party was how it really got going. Orla and Julian got together in 2010 and started playing music as a duo. When they moved to Cork in 2014 and I joined, momentum started to build."
The band's new extended-player, Time is a Clock releases on the 27th on CD and digital download, with a gig at the Village Hall on Patrick's Quay, a recent addition to Cork's roster of do-it-yourself gig spaces. Chris dives into the EP's recording and creative process, including collaborating with a workhorse of the Cork scene. "Our songs were already quite structured, so we went in to the studio with very set ideas on what they were. The real fun stuff came in adding new textures off the cuff, mainly with Orla's voice. With Chris Somers, who engineered and co-produced the EP, we came up with some great ideas on how to fill out the sounds and add to songs' already dramatic worlds on the recording."
It seems to be awfully early in the year to be releasing a new record – just after the window for year-end coverage and possibly a little early for the memory of befuddled music scribes when assembling copy the following December. What's the logic? "It was time to get it out there. We had put a lot of work in to the EP and didn't see the point in waiting. We think it's winter music, and didn't want to miss the season it fits."
The current line-up of the band has been gigging for the bones of a year now, and has fit itself into a number of the city's venues and spaces, engaging with them. Chris expands on how he feels the band's live show has come together, particularly with a live percussionist stepping in. "The gigs have been so varied that there's been great learning in them. Depending on the size of a crowd or space, how you engage, how you play, these things all change. Alan White coming in on drums has added a real fullness to our sound which we have seriously been enjoying of late. We're constantly ticking over on ideas of a more theatrical rendition of what our stage show could become. More on this to come."
The time of the year approaches for the annual Quarter Block Party festival. Last year saw Sillk play on the festival's music bill, as part of a music trail, in the Friary pub on Shandon Street. Chris is positive on his experiences with the festival, and confident in its potential. "It was a real pleasure. As was the festival as a whole. Cork has always been a great city for festivals, so it's really exciting to be around at the inception of a new festival that has real legs to grow and grow."
Sillk have entered the fray at an interesting time, as new venues begin to develop and catch up with the array of talent the city has to offer. What's their take on the scene at present? "We all come from different backgrounds and have different tastes, but are all interested in music that blurs boundaries and tries new things. Bands like The Altered Hours, Morning Veils, ooSe, all make our small city feel a whole lot bigger. We're looking forward to hearing Shookrah's new release. We're also big fans of folk stalwarts like Ger Wolfe and Fintan Lucy."
With the E.P. now in the can, and the launch gig just days away, what's the plan throughout the year for the three-piece? "The main thrust of the year will be to plug the EP through gigs. We'll be putting together a tour very soon, and hope to make a splash at the Summer festivals. And of course there'll be the inevitable niggle at the back of our minds about what the next record might sound like."
Sillk play the Village Hall on the 27th, tickets €12 with support from Elaine Malone, plus a free CD. The video for Switchblades Don't Sleep is available now on YouTube.