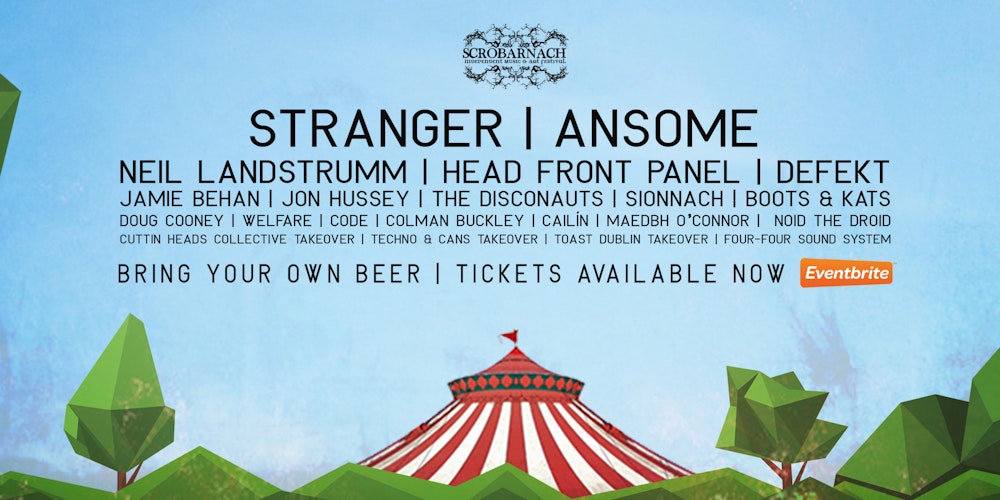 Heading into its third year and placing its roots in Watergrasshill's Ballindenisk House, Scrobarnach Music Club's annual festival brings the best in Irish electronica together. Mike McGrath-Bryan speaks to festival heads and artists. (N.B. – this article ran the day before this year's installment announced its cancellation!)
With a name that quite literally means "undergrowth" as Gaeilge, Scrobarnach Music Club's eponymously-titled annual events have been true to their word, allowing for Ireland's electronic music community to breathe and spread its wings in wider, more secluded spaces. Heading into its third year, and moving to its new home of Ballindenisk House in Watergrasshill, festival co-founder and director Ian Hart explains the process behind establishing the new fest. "Scrobarnach was the brainchild of a group of event organisers and club promoters – myself, Tim Dowling, Paul Daly and Jasper Mathews, who all worked regularly together at various events within the industry. In the summer of 2015, they sat down and decided they would put their combined skills to use and create their own unique festival experience "Scrobarnach". The aim was to create an independent, affordable, and eco-friendly event which supported the local industry, hence the BYOB and "leave no trace" policies which has been applied since the start."
The communal creative process behind the name for the festival exemplifies its DIY spirit, the result of ingenue and banging a few heads together, according to Hart. "The name took a while to get! We spent a few days going back and forth on ideas, the festival was set to be held at the Moneytree, a site right on the outskirts of a beautiful forest outside Portlaoise. The site was quite wild and had some amazing natural features, we wanted to hold on to its charm, so this had to be in the name too, however we eventually thought up "Undergrowth". This didn't have much to it in terms of an attractive name, but after some time it was Paul Daly who had the idea to use the Irish, which is "Scrobarnach", we all knew straight away from there this was it".
The emphasis on genres of electronica unrepresented on bigger festival bills has helped establish the festival, with days of programming dedicated to psytrance and drum'n'bass garnering equal billing among the festival's attractions. Festival operations manager and Cork electronica staple Jamie Behan discusses this. "The goal of the festival is to give festivals 'back' to (fans of) psytrance, back to drum'n'bass. These are the people who started off these festivals, Life was a psytrance festival originally. They're being ignored by bigger festivals, so we're bringing them back in. It's not just us, there are loads of smaller, festivals around the country, that have come up in response to the changes the bigger festivals have undergone. What we want to do is bring psytrance and drum'n'bass back into the fold, alongside house and techno, and not treat them like they're dirty genres. There is a crowd for them, a massive following, and we want to recognise them."
It's a diverse line up, that puts Irish talent firmly in the limelight and sees them comprise the majority of the billing, while allowing a choice selection of international headliners like Neil Landstrumm, Stranger and Ansome, to help the festival reach a wider base. Behan outlines the festival's gradual process regards finding artists and DJs to place on an ever-growing platform. "At the very start, the first thing we looked at was techno, and we wanted a really impressive lineup. More underground techno acts that we liked, rather than booking Dax J or Blawan, and for supporting acts, we were just going to look around the country, for the best Irish techno that there is. It was literally as simple as that. Same when we moved into house. After choosing techno acts, we found that we didn't have enough room for everyone that we wanted from Ireland, and when we moved to booking the house stage, we did the same thing, and we thought, 'do we really need to look outside Ireland?'. There's enough talent on this island, with established acts like Fish Go Deep and Sunday Times. And then, what we noticed the amount of collectives there was, and that's when we focused on collectives and takeovers from the people that were pushing quality music around the country. Techno & Cans in Dublin, D.I.E. in Limerick that have been doing amazing things in Limerick for seven or eight years. Looking further into the undergrowth, if you will, the Labwork guys are putting on house, techno and disco on Sundays in Mullingar, and drawing big crowds, in Mullingar for underground electronic dance music. These are guys doing amazing things for electronic music outside of the main hubs. Next year, we'll be expanding our Irish offering further."
A promotional emphasis on the work of electronic music collectives is seldom come-by for a festival, even though many cities' scenes and music communities are dependent on collective endeavour. Many of the country's collectives will be hosting takeovers of stages during the weekend, showcasing their efforts and providing a feel for what they're about. Representing Cork's Vinyl Below collective of DJs and promoters is Stephen O'Byrne. "There are a number of hard-working collectives in Cork that spend each month promoting their party and aiming to win the biggest crowd that they can by putting on the best and most interesting shows. As the scene for electronic music in the city is limited at best, there isn't a huge crowd to go around. A festival that showcases most, if not all, of the electronic music collectives in Cork is a great way of giving people a sample of what they might have been missing, or might not have even heard of. All of our local electronic music talent, as well as a host of spectacular international acts playing on our doorstep is a great way to maintain and boost the interest in the genre. We're looking forward to seeing what the weekend will bring, it's something that Cork has lacked for a long time."
Also appearing at the festival are Cork hip-hop crew Cuttin' Heads Collective. Resident cutman DJ JusMe outlines the importance of collectivised work to creating, establishing and hopefully raising the bottom line for a genre or subgenre in a city. "Speaking from a hip-hop perspective, the (idea of the) collective has had a huge positive impact for Cork. You can go see a couple hip-hop gigs a month that will be well attended, fun nights. It's an outlet for local artists to perform, it's a place you can go have a drink with like minded folks, meet other artists and DJs."
The festival is now well-established, and is fully fledged in attractions, layouts, etc. Behan goes into what lies ahead for the rapidly-expanding weekender and the music club behind it. "We have plans for 2018 to hold more one-offs, with focus on certain themes, or genres. Those are in the works. As for the festival itself, we'll be looking to turn it into more of a multimedia event, having workshops on music production, discussion panels, etc. More of a music festival in a broader context, with workshops providing audience participation."
Scrobarnach 2017 happens on August 11th and 12th at Ballindenisk House in Watergrasshill. Tickets for the BYOB camping event are available, as well as exclusive guest podcasts, from scrobarnach2017.com.